the leadership collective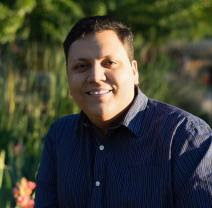 Adrian Alexander Hernandez (he/him)
executive artistic director, operations
Adrian is a proud Chicano from San Antonio, Texas (yee-haw). A producer, performer, company manager and coffee shop enthusiast, Adrian is excited to be leading the Yale Summer Cabaret. He is a rising second-year in the Theater Management program at the David Geffen School of Drama. Adrian was previously the Company Manager at Williamstown Theatre Festival and has worked at The Public Theater and MCC Theater. Adrian received his B.A. in Theatre Arts and B.B.A. in Business Management from the University of the Incarnate Word. In his free time, Adrian is usually found re-watching Grey's Anatomy, The West Wing, and Brooklyn 99 or finding a new coffee shop to frequent.
Developing this summer: his ability to start new T.V. shows and not stop watching 5 episodes before the finale because he doesn't want the fun to end.
Contact Adrian for: scheduling, season calendar, IT, rentals, coffee @ the cab, or to sing Pink Pony Club by Chappell Roan at the top of your lungs. <3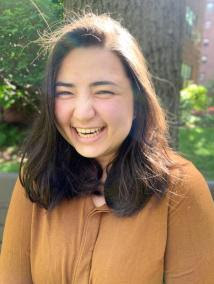 Sarah Machiko Haber (she/her)
executive artistic director, innovation + strategy
Sarah is a mixed, third culture kid who believes in the power of storytelling and community to help build a more just and liberated world. She is a rising second-year Theater Management M.F.A. candidate at David Geffen School of Drama. Most recently she was the Equity, Diversity, and Inclusion Associate at Theatre Communications Group. Other work includes positions with the Lark Play Development Center, National Asian American Theatre Company, and Oregon Shakespeare Festival. Sarah holds a B.A. from Sarah Lawrence College.
Developing this summer: the ability to get through my 'to be read' pile.
Contact Sarah for: budget and payment information, commission and playwright support, to exchange cookie recipes.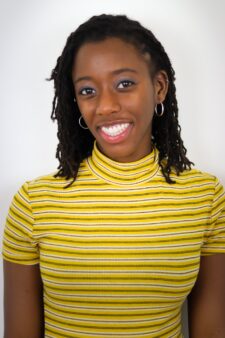 Maya Louise Shed (she/her)
executive artistic director, community
Maya is a producer, educator, community engagement advocate, performer, cultural consultant, and director from Northeast Ohio. She currently attends the David Geffen School of Drama at Yale, where she's a rising second-year M.F.A. candidate in Theater Management. Maya obtained her B.F.A. in theatre arts administration from Howard University in 2021, graduating summa cum laude and also training in classical voice. Her leadership roles at DGSD include working as the general manager for the Dwight/Edgewood Project and serving an executive committee member for student government. Prior to Yale, Maya worked for four years as a lead teaching artist at Shakespeare Theatre Company and was also the assistant producer and manager of community engagement at Studio Theatre. During her time at Studio, Maya constructed creative teams, managed casting, and helped to diversify the age and racial demographics of audience members by reestablishing connections with local organizations and developing new, recurring, and comprehensive community-centric initiatives. Outside of theater, Maya finds joy in cooking, working out, and making music.
Developing this summer: the ability to go into a store (grocery and clothing) and leave only with the things on my list.
Contact Maya for: marketing/PR, community relations, artistic planning, or serve w/ the cab.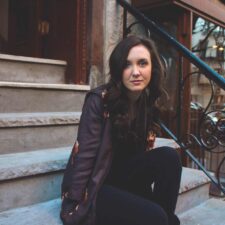 Mikayla Michelle Stanley (she/her)
executive artistic director, people + culture
Mikayla is a producer, actor, director, designer, teacher and puppeteer. Mikayla is co-artistic director and lead producer of Hit the Lights! Theater Co., an award-winning company created out of an artistic agreement to tell simple stories through unconventional ways. As the lead producer of Hit the Lights!, Mikayla has has worked in collaboration with Ars Nova (company-in-residence), La Mama, New Victory Theater, Dixon Place, Ritz Theater, Jungle Theater, Know Theater, Franklin Stage Company, Gimlet Festival, the NYC Fringe Festival, Port Fringe (Portland, ME), Minnesota Fringe, Cincinnati Fringe Festival, and others throughout the US. Hit the Lights! was 2018 and 2019 Ars Nova company-in-residence. She is currently an M.F.A. candidate in Yale's Theater Management program.
Developing this summer: time with friends. It is summer, after all!
Contact Mikayla for: all things people +culture, HR, or party @ the cab.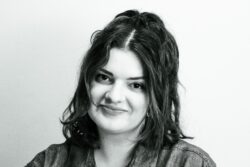 Allyse Corbin (She/Her)
marketing associate
Allyse is an artist and educator from Cleveland, Ohio. She has extensive experience teaching theatre and visual arts with various nonprofit organizations. Allyse is also a portrait photographer and visual artist who enjoys collaborating with other educators and artists, studying emotional intelligence, doodling, and hanging out with her puppy. She has enjoyed being an audience member and supporter at the Cab this last school year, and is super excited to be a part of the Summer Cabaret Team!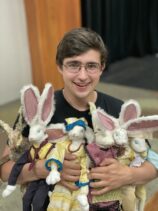 Bennet Goldberg (he/him)
technical director
Bennet is a props artisan, scenic carpenter, and fine woodworker from Northern Chicagoland. He recently graduated from the David Geffen School of Drama at Yale with a Certificate in Props and he recently graduated cum laude from Cornell College in Mount Vernon, IA with a Bachelors of Special Studies in Property Fabrication majoring in Theatre and minoring in Studio Art. His work with props, carpentry, and welding have been featured in productions for The Yale Repertory Theater, Syracuse Stage, Cornell College, the University of Iowa, and Interlochen Arts Camp. He is currently the Technical Director for the Yale Summer Cabaret.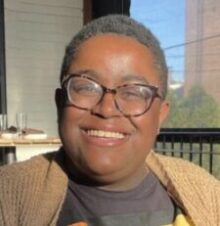 Hannah Jones (She/Her)
season stage manager
Hannah Jones (she/her) is a rising second year Stage Management MFA candidate at the David Geffen School of Drama where her stage management credits include the Furlough's Paradise, Julius Caesar and WAKE. Hannah holds a BA in theatre, education and black feminist thought from Hampshire College with a Multicultural Theatre Certificate from UMass Amherst.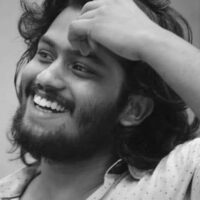 Twaha Abdul Majeed (he/him)
production manager
Twaha is a theatre artist currently based in New Haven CT, pursuing his MFA in Technical Design & Production. With a focus in theatre management, technical assistance, and fabrication, he has collaborated with a few leading theatre-makers like Anuradha Kapur, Deepan Sivaraman, and Artist Sujathan. His major projects include The Cabinet of Dr. Caligari, Dark Things, Daughters Opera, Work in Progress - A Nationalism Project, and Assembly of Ghosts.